Haveley Hey Junior class 4 - 1956/57
I can hear you asking why have we got a photo of Haveley Hey Junior on the Poundswick website? I have no excuse to offer other than pure editorial self-indulgence. But it's a lovely photo and many of the people in it (the names in bold type) went on to become Poundswickians within a few months of it being taken. Are they reason enough? I hope so.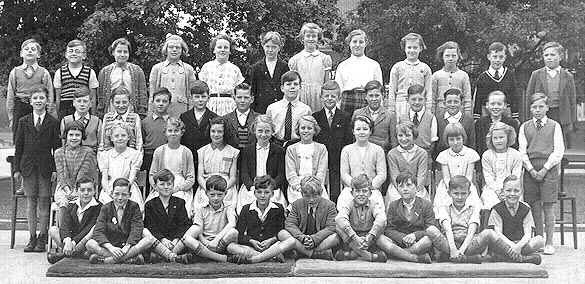 Back Row: Peter Forshaw, Ron Hyde, Susan McKnight, Margaret Hadfield, Elaine Hesford, Janet Byford, Susan Heath, Wendy Peel, Linda Norman, Dorothy Clifford, Peter Wade, John Myers .
Rear Middle Row: Anthony Dawkins, Dave Coulson, Kenneth Ollerhead, ? , Jim Cook, Ronald Schofield, Raymond Fletcher, Michael Clarke, John Hughes, Dave Morris,
Barry Davis, Eric Lee, Gregg Bonnar.
Front Middle Row: ? , Pauline Bolshaw, Susan Birtles, Pat Dillon, Veronica Kenny,
Susan Waterton, Jean(ette?) Stott, Eileen Ollerhead, Dorothy Graham, Lesley ? .
Front Row: Jimmy Parlane, Derek Bates, John Howard, Jimmy Lee, Billy Corser,
Gerald Whitehead, Steve Berry, George Ainsworth, Bill Greenough, Paul Burgess.
I am indebted to Steve Berry, Wendy Peel, Linda Norman and Peter Wade for their remarkable achievement in coming up with so many names forty-five years after the event.