Mike Tomlinson, who sent in this programme, played the part of the Judge. He recalls how, early on in the Court House scene, he had to mime to a song which had been pre-recorded on an ancient tape recorder. On the first night, as he started to mime, the tape recorder remained silent; a terrifying experience for a thirteen-year-old! After a couple of bars Mrs. Grimes, who was playing the piano, signalled to him to start again and sing, which he did, only for the tape recorder to start up after he had sung the first two lines. He then had no option but to start again, this time miming to the tape. As a result of this ordeal Mike has remembered those two lines ever since (and will doubtless do so for the rest of his days!):

"If an animal errs or a citizen sins, whether rabbit or weasel or ferret he
is certain as soon as the trial begins to be stamp-ed upon with celerity."

The problem on that first night was that whoever was in charge of the tape recorder had forgotten to turn it on and the delay was caused by waiting for its many valves to warm up. Mike suggested that the person responsible might have been me, but, thankfully, I can honestly claim to have been absent from the occasion, being in the middle of sitting my "O" Levels at the time. Other suggested culprits include Messrs. Russell or Nicholson. Anyone want to own up?
This page was first posted in 2002. Seven years later Miss J. Williams, who was co-producer of the play, sent in a couple of lovely photos, which I reproduce here: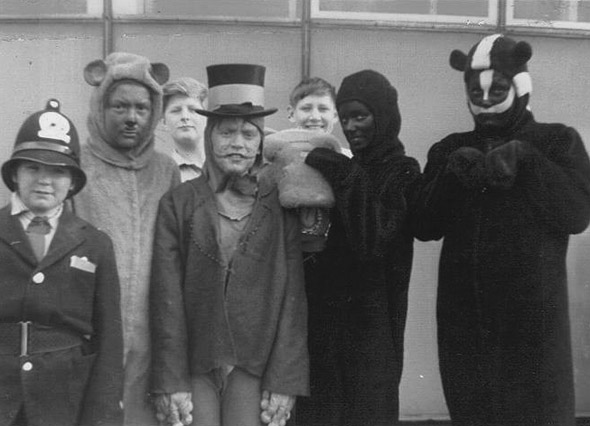 Identified in this photo are Graham Eastwood (the Policeman), Bill Cronshaw (with the top hat, as Toad), Bronwen Pugh (Badger) and Martin Impey and Malcolm Sweeney (on the back row, as the two 'halves' of the horse).
| | |
| --- | --- |
| | Here's the horse in action, cheerfully bearing the burden of Toad! |