Form 5N - 1974/75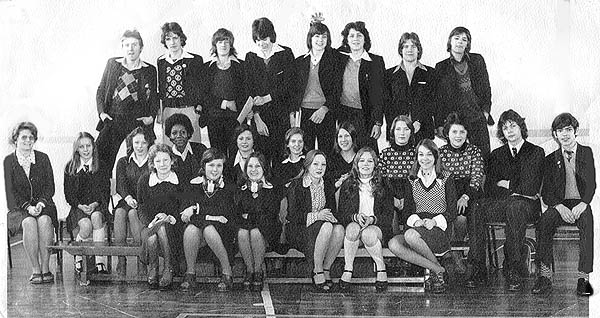 Back Row: Ian Arthur, Terry Crewe, Malcolm Medlock, John Faith, Colin Allsobrook,
Geoff Murch, Chris Potts, Simon Ayrton.
Middle Row: Mrs. S. Walton, Helen Darnley, Pauline Brocklehurst, Delva Stewart, Kath Siddal, June Wilson, Ceris Dale, Janet Williams, Deirdre Hughes, Simon Ranby-Hutchinson, Terry Morris.
Front Row: Julie Griffith, Deborah Ward, Carol Webster, Lynne Degnan, Deborah Byrom,
Jackie Simpson.
Terry Crewe, who sent in this photograph, observes that it tells a story of how Poundswick changed from a Grammar School to a Comprehensive. He tells us that although the boys look like extras in "Rebel without a cause", they all fared well in their education and subsequent employment. However in 1975 they were all "too cool" for such things as blazers and ties; it is perhaps a reflection on the liberal attitudes of the day. "We were not Angels" says Terry, "but it is interesting to see the attitude (stance, posture etc) that we appeared to have". Maybe it is the basis of a debate on the changing social processes within the school. Terry assures us that he can safely say that they were happy times. Happy times with a successful outcome. What more could any school offer?