Form 3N - 1982/83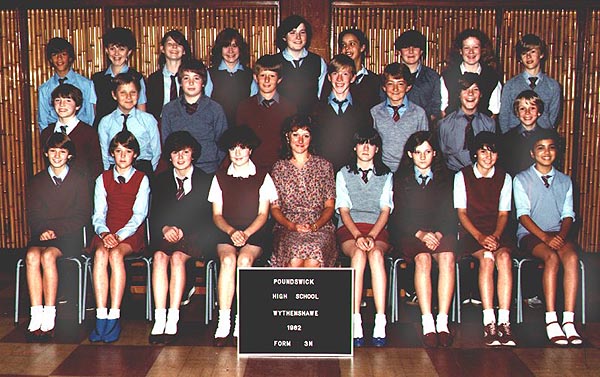 Back Row: Jimmy Evans, Sharon Barlow, ? , Nicola Smythe, Gillian ?, Janet Brown,
Joanne Sidebottom, ? , Carl Lane.
Middle Row: Neil Prince, ? ,Trevor MacDonald, Steven Smith, ? , ? ,
Mark Perry, Andy Galloway.
Front Row: Dawn Bowie, ? , Tracy ?, Marie Simons, Mrs. J. Hudson, ? ,
Vicky ?, ? , Paula Brophy.
Nice to have another photo from the later years; thanks to Andy Galloway for posting it onto the Friends Reunited site and to Simon Wooding for coming up with the teacher's name. This is also the only photographic record we have of the famous swinging bamboo partitions!