Form 1N - 1983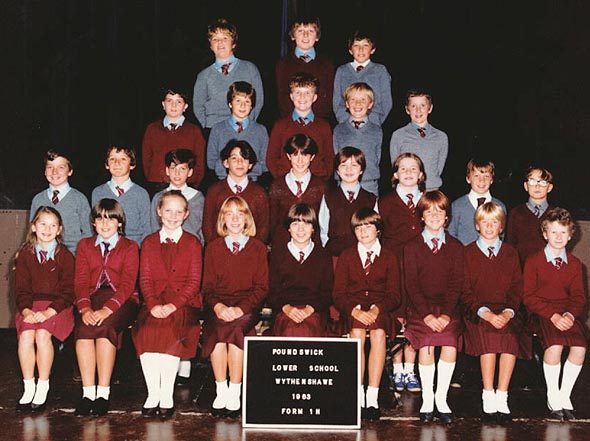 Back Row: Jason O'Neill, Darren Ankers, Stuart Hardie.
Rear Middle Row: Desmond Donovan, Kenneth Powell, Paul Nikias,
Simon Matthews, Geoffrey Holmes.
Front Middle Row: Paul Williams, John Cotgrave, Zoe Hampton, Bianca Baldwin,
Cheryl Higgins, Melanie Moulton, Theresa Dinnuel, Jason Maguire, Robert Metcalf.
Front Row: Lynn Maguire, Sarah Wall, Maureen Holmes, Joanne Charles, Michelle Botham, Michelle Thompson, Paula Wimbledon, Catherine Anders, Carol Stirrup.
I'm grateful to David Cunningham (1984-89) for bringing this photo to my attention. It was posted onto the Friends Reunited site by Melanie Moulton - thanks, Melanie - who tells us that she wrote the names on the back of the photo at the time; what a sensible idea! I get so many photos sent in with only a handful of names because their owners didn't do this and now can't remember them.